quixotic axolotl
by mouseninja
user profile | dashboard | imagewall | mouseninja maps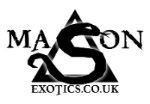 Axolotl

I like my axolotl
I keep her in a bottle
And if I'm feeing cross or mad
Or down or hurt or bad
I pull the cork and let her out
With fiery roar and shout
She flashes sparks and bellows loud
And throws her weight about
And when the monster's scared
my friends made them hide upstairs
I catch the raging, stamping beast…and put her right back there.
Axolotl in a bottle, I really like you such a lotl.

Source: Whitehouse, E & Pudney, W, A Volcano in my Tummy, The Peace Foundation, Auckland 2002


Search this moblog
Recent visitors
Friends
More...
rss feed
for those that remember the beardies i got for my birthday last October...

well after the beardies were sexed... Spike turned out to be a girl (snigger) and Draco and Merlin boys...

Merlin sadly passed away, he had a bone disease that could not be treated. Draco had to be given a new home, as he could not be kept with Spike. they had come up to breeding age, and we did not want to breed a brother and sister!

but Spike is still doing well, and has a new friend, Priest, who is suspected female, but it does not matter either way, as Priest is unrelated. (we are planning on breeding them)

Priest is named after a roleplayer friend of mine.. he plays a Dragon type character (dracoscian) called Priest :) ...

1 & 2 ~ Priest
3/4/5 ~ Spike
been really really busy!

have a lot more snakes, and breeding plans are coming in to place.

start college on 1st october... to do Animal Management :D soooo excited!

while i'm at college, we will be building the business, and hopefully, by the time we have finished, (2years) we will have built it enough to support me, and i will be running it full time

that's the plan anyway!

1. Caesar ~ Common boa, close up.
2. Cleopatra ~ Common Boa
3. Nagini ~ Tiger Reticulated Python (yay, i got my Nagini!)
4. Matilda ~ Common Boa
5. Mortimer ~ Salmon Boa (see his pretty white eyes)
6. Psycho ~ D'Alberts or White lipped python. not for the faint hearted or inexperienced!
brought some capatillas home from my mum's house... cuz she didn't want them eating her vegetables!

so i put them in a big plastic jar thing (like those sweetie jars at old sweet shops) and fed them..

they've started turning in to chrysalises... which is cool..

and when i moved the veg on the kitchen table, a butterfly flew out!

i let it out in the sunshine after taking some pics :)
13th Sep 2007, 20:04
comments (1)
we lost Charlie on Friday. he'd been ill for a while... and he was starting to get better... no matter how poorly he was, he was always happy to see me.. Rest In Peace Charlie... i'll never forget you. xxx
10th Sep 2007, 17:58
comments (11)
My new tattoo.

it has a lot of meaning, this one.....
13th Aug 2007, 09:59
comments (4)
a new snake :)

he's a Burmese Python.. could grow quite big. but it's all good. we know what to expect, so it's not a problem. we've wanted one for ages.

don't like the pic of me... but it gives an indication of his size!
he's currently about 6.5ft. (and i'm about 5'!)

it was supposed to have been female, but it's ok, cuz it means he won't grow quite as big...

i was only disappointed as i wanted to call 'her' Nagini.
(i can't knowingly call a male snake by a female name!)
23rd Jul 2007, 00:01
comments (4)
1. new royal python ~ she eats like a pig. which is great. she should be ready for breeding next year! woooooot

2. Boa Constrictor Imperator ~ Cleopatra ~ should be ready for breeding in about 4years!

3. Boa Constrictor Imperator ~ Caesar ~ her boyfriend! kept seperately, and unrelated, so hopefully will be a good breeding pair in the future!

4. born today :D from Neo and Oracle...
5. as above

6. latest pic of the first one born here :)

7. Mack Snow Leopard gecko ~ we bought this lady at a reptile show... she was born the day before our first one.. and should hopefully produce some nice babies!

so... we've been busy!!!!

i really like this pic :)

i stole it from my mate's facebook.. (thanks Hoppo!! )


4th Jun 2007, 11:32
comments (1)