quixotic axolotl
by mouseninja
user profile | dashboard | imagewall | mouseninja maps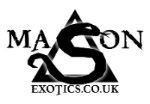 Axolotl

I like my axolotl
I keep her in a bottle
And if I'm feeing cross or mad
Or down or hurt or bad
I pull the cork and let her out
With fiery roar and shout
She flashes sparks and bellows loud
And throws her weight about
And when the monster's scared
my friends made them hide upstairs
I catch the raging, stamping beast…and put her right back there.
Axolotl in a bottle, I really like you such a lotl.

Source: Whitehouse, E & Pudney, W, A Volcano in my Tummy, The Peace Foundation, Auckland 2002


Search this moblog
Recent visitors
Friends
More...
rss feed
i really like this pic :)

i stole it from my mate's facebook.. (thanks Hoppo!! )


4th Jun 2007, 11:32
comments (1)
mason wanted a kitten....

so we went and got one.

she doesn't have a name yet, but we're working on it!!


Meet Kermit and Amber...

they are Vermiculated Tree Frogs :)
Mason dancing... Very drunk...

and the random thing they found in the skip!
14th May 2007, 00:10 |
tags:mason
comments (6)
1. Mason... one of the many ushers :) i think he looks great in that suit! :)

2. Me and May

3. Me and May again...

4. May...

5. Me... in a hat :)

6. and another of me and may :)
14th May 2007, 00:08 |
tags:mason
comments (0)
beardies love their sleep!

:)

and some new axies we have just got in.
Karma is finally being less grumpy, and is starting to hand feed little wax worms :)
Priest... the baby beardie..

found these pics which really show off his colour :)