quixotic axolotl
by mouseninja
user profile | dashboard | imagewall | mouseninja maps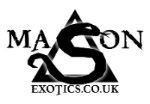 Axolotl

I like my axolotl
I keep her in a bottle
And if I'm feeing cross or mad
Or down or hurt or bad
I pull the cork and let her out
With fiery roar and shout
She flashes sparks and bellows loud
And throws her weight about
And when the monster's scared
my friends made them hide upstairs
I catch the raging, stamping beast…and put her right back there.
Axolotl in a bottle, I really like you such a lotl.

Source: Whitehouse, E & Pudney, W, A Volcano in my Tummy, The Peace Foundation, Auckland 2002


Search this moblog
Recent visitors
Friends
More...
rss feed
we were asked if we wanted some zebra mice....

and of course, we said yes :)

they're so cute.

:D
Well...

the beardies are finally old enough to be sexed....
Draco is a boy, Merlin is a boy...

and Spike is a girl! hehehehehehe

1. Priest, the new guy
2. Merlin
3. Draco
4. Spike
she's a Suriname Red Tailed Boa :)
i got new rats too :)

yay!

1. Ruby (siamese dumbo)
2. Ruby and Tallulah dancing :)
3. Nanook (male husky) and Daisy (in the tube)
4. Everyone! (with an additional 2)
5. The girls in the bed (ruby, Daisy (fawn hooded) and Tallulah... and poor Nook in the cold tube!
6. Nook, Ruby and Tallulah.
28th Mar 2007, 13:58
comments (6)
Spike meets Spike.:)
24th Mar 2007, 21:08 |
tags:#spike
comments (9)
BEFORE 7am this morning!!!
our new friends... 3 royal pythons. :D

1. Amonet
2. Anubis
3. Hathor
4. All 3...