quixotic axolotl
by mouseninja
user profile | dashboard | imagewall | mouseninja maps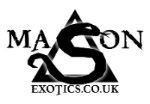 Axolotl

I like my axolotl
I keep her in a bottle
And if I'm feeing cross or mad
Or down or hurt or bad
I pull the cork and let her out
With fiery roar and shout
She flashes sparks and bellows loud
And throws her weight about
And when the monster's scared
my friends made them hide upstairs
I catch the raging, stamping beast…and put her right back there.
Axolotl in a bottle, I really like you such a lotl.

Source: Whitehouse, E & Pudney, W, A Volcano in my Tummy, The Peace Foundation, Auckland 2002


Search this moblog
Recent visitors
Friends
More...
rss feed
the white ones opened their eyes today..a day later...
...they opened their eyes... :)
Meet Lady Ratface... as she is currently called...

she was just so pretty i couldn't resist!

I'm thinking about Amber, but it doesn't really suit her, i don't think...
so it's currently Lady.. til something else comes along.
the mouselings are getting bigger by the day...

and starting to squirm about... so maisie mouse has to chase them all back to bed!
2nd Feb 2007, 19:58
comments (3)
it's Amazing!

thank you so much!!!

:D
2nd Feb 2007, 11:55
comments (7)