quixotic axolotl
by mouseninja
user profile | dashboard | imagewall | mouseninja maps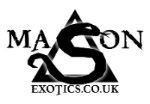 Axolotl

I like my axolotl
I keep her in a bottle
And if I'm feeing cross or mad
Or down or hurt or bad
I pull the cork and let her out
With fiery roar and shout
She flashes sparks and bellows loud
And throws her weight about
And when the monster's scared
my friends made them hide upstairs
I catch the raging, stamping beast…and put her right back there.
Axolotl in a bottle, I really like you such a lotl.

Source: Whitehouse, E & Pudney, W, A Volcano in my Tummy, The Peace Foundation, Auckland 2002


Search this moblog
Recent visitors
Friends
More...
rss feed
the fur is really coming through now!you can see the difference between the ickle mouselings... apart from the
white ones!
30th Jan 2007, 00:36
comments (2)
you can really see the colours coming through now :)

and Patches looks so cute scratching herself!

the other one Mason has named Dinner. to remind her how lucky she is!
29th Jan 2007, 15:32
comments (1)
they're at the stage now where they're starting to wander off!
they still can't see... they won't open their eyes for a bit longer yet...
28th Jan 2007, 20:08
comments (8)
you can really see the markings coming through on some of them now :)

there's 2 i can see from now that i'm keeping... one with a patch over her
eye, and the other has a white stripe down her nose, and a white line on her
back :)
28th Jan 2007, 11:34
comments (5)
suppose i'd better include the puppy!