quixotic axolotl
by mouseninja
user profile | dashboard | imagewall | mouseninja maps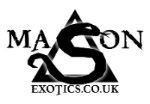 Axolotl

I like my axolotl
I keep her in a bottle
And if I'm feeing cross or mad
Or down or hurt or bad
I pull the cork and let her out
With fiery roar and shout
She flashes sparks and bellows loud
And throws her weight about
And when the monster's scared
my friends made them hide upstairs
I catch the raging, stamping beast…and put her right back there.
Axolotl in a bottle, I really like you such a lotl.

Source: Whitehouse, E & Pudney, W, A Volcano in my Tummy, The Peace Foundation, Auckland 2002


Search this moblog
Recent visitors
Friends
More...
rss feed
mmmm..... chocolate cake :)
14th Oct 2006, 12:23
comments (8)
14th Oct 2006, 11:19
comments (2)
this was my bday present from Mason... :D

adorable baby bearded dragons......

the top one is caled Draco, and in the bottom pic, the one underneath is caled Spike... and the one on top is yet to be named (that one's Mason's)

called him Spike for Saz, as she can't have hers now... and it suits beardies. :) cuz they're all spikey and stuff. (altho the spikes are kinda soft, so it's ok)
Went out with Mason last night... we went to a restaurant called Il Rosso, in Mansfield... It was great... we had Lobster, which was amazing...

and he bought me an Orchid.... :)
10th Oct 2006, 22:17 |
tags:#orchid
comments (18)
the axolotls arrived on saturday.... 12 of them...

i had one, Mason had 2, and the other 9 (7 females, and 2 males... we think.. ) are now looking for new homes...

they are currently living in my basement... and need a cold water setup, with a filter (but not too much water flow) and eat bloodworms, earthworms and prawns...

and are going for the bargain price of £10 each :)
they are a different colour variation... being a cross between black and wild type...
meet Mojo (left) and Turpin...

a friend asked me to take them on, as he didn't have the time to commit to them fully.

they're double the size of Charlie.. and are half his age!

they're lovely ferrets :)
he came over to help me with my notes on the Tokay Gecko...

ok, so he was also hanging with me so i could protect him from DM, who kept biting him....
my bro's just sent me this pic....

he should be bringing it up on Tuesday... for my bday... :D

(it's not my bday present, but he's trying to get it to me for then... )

it's currently in Hereford.... and i'm in Mansfield.
so it's a little hard to ride it right now :(