quixotic axolotl
by mouseninja
user profile | dashboard | imagewall | mouseninja maps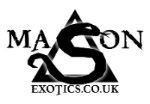 Axolotl

I like my axolotl
I keep her in a bottle
And if I'm feeing cross or mad
Or down or hurt or bad
I pull the cork and let her out
With fiery roar and shout
She flashes sparks and bellows loud
And throws her weight about
And when the monster's scared
my friends made them hide upstairs
I catch the raging, stamping beast…and put her right back there.
Axolotl in a bottle, I really like you such a lotl.

Source: Whitehouse, E & Pudney, W, A Volcano in my Tummy, The Peace Foundation, Auckland 2002


Search this moblog
Recent visitors
Friends
More...
rss feed
.
12th Feb 2008, 10:40
comments (2)
just arrived... Meet Aragog :)

it's an Avicularia purpurea ... it'll be very black when it's bigger, but when the light hits, it'll be purple :)

ps. apologies to Spike... xxx
i did take someone's (can't remember who! sorry! :( ) advice, and get Hunters for college.. have steel toe cap ones for working with the animals etc..

but i decided i needed these as well!
6th Feb 2008, 12:03
comments (0)
HAPPY 2008!!

Thanks D!

This is my close favourite one! how did you know?? ;)
Close call between this one and Maya Gold..

Still can't decide!
5th Feb 2008, 17:35
comments (2)
got a new tattoo on sunday...

for those that can't read Theban... it says:

This above all, to thine own self be true.
31st Jan 2008, 15:41
comments (4)
this is one of the very few eggs i have eaten that i know is 100% free range...

we found the egg at brackenhurst :)

it's from one of their 2 ex battery hens

they are special eggs. they taste better than any egg i've had before!
8th Jan 2008, 22:14
comments (1)
this is the corn snake i got last year... she has grown soooo much!
19th Dec 2007, 14:57
comments (4)